Planning consent for boat house & all weather sports pitch at Chiswick
Following 18 months of discussion and consultation, The London Borough of Hounslow resolved to grant planning consent to QHT and QHMF to refurbish the Quintin Boat Club, create a new boat store, build a new pavilion and an all weather floodlight sports pitch at Chiswick.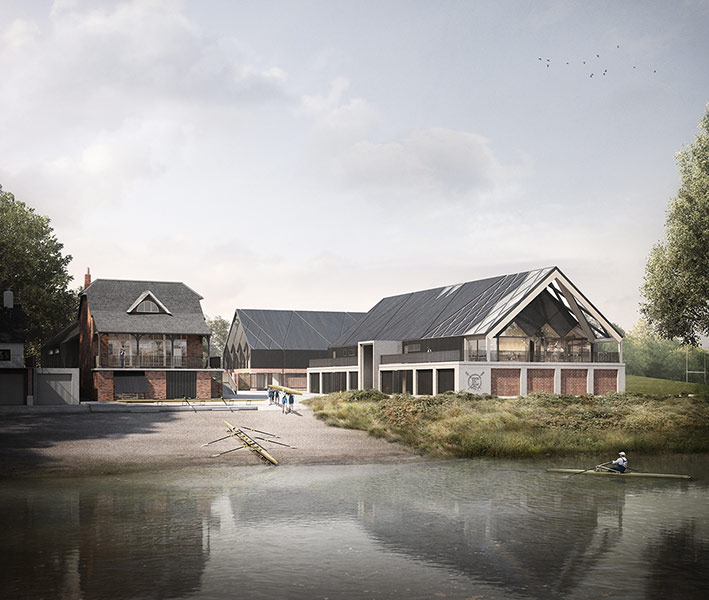 Officers praised the design and approach of the Trusts' Team, led by architects, AST, to the landmark buildings on the north bank of the River Thames adjacent to Chiswick Bridge. The new buildings are both modern and aspirational whilst linking closely to the language of the part timbered boat shed and ornamental boat houses of the river.

The 7.5 acre site, designated as Metropolitan Open Land, is the venue for the finishing crews and presentations following the Oxford and Cambridge Boat Race. The proposed development secures the future of the boathouse for its original purpose and offers safe and secure storage for more than double the number of boats, providing the critical mass to underpin an outreach programme with opportunities for wider community use.

The original timber boathouse, built and funded by Quintin Hogg in 1888, founder of the Regent Street Polytechnic (now the University of Westminster) was replaced by the current arts & crafts boathouse in 1922 and partially rebuilt following bomb damage in World War 2. Today the buildings on the site are in a poor state of repair. It is hoped that modern facilities with equal access for all will revitalise both the Quintin Boat Club and the University Boat Club, attracting a more diverse membership and breaking down perceived barriers to participation.

The University Rugby pitch has fallen into disrepair and the new all weather pitch and pavilion will provide a new home for University Rugby and other sports such as American Football and Soccer. The buildings are not luxury or 'show' facilities, instead each is a simple utilitarian series of spaces connected to the sports they support.

Joanna Embling, Trustee of QMFHT and QH said - Although there is still along way to go it is encouraging that the Trustees are able to continue the work and realise the aspirations of the founder Quintin Hogg, whose belief in "in access for all" still resonates so clearly today.
Next article
Following in Quintin Hogg's Footsteps 100 hundred years on. 1st July 1919 – 1st July 2019