University of Westminster receives £4.4 million Quintin Hogg Trust funding to enhance facilities and student experience
The funding from The Quintin Hogg Trust (QHT) has contributed towards the creation of a range of major projects across the University to enhance student experience during the 2019-20 academic year.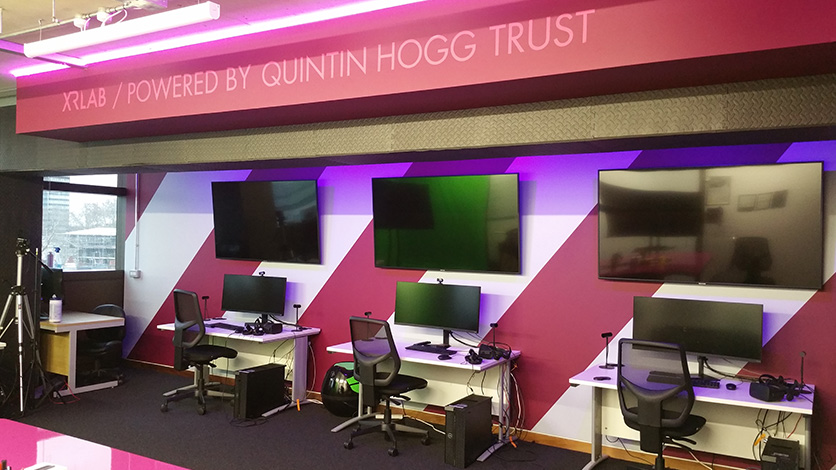 This year, an array of projects were carried out to improve student experience and provide enhanced practical knowledge to boost their career prospects. The new Students' Union Space, 'The Hideaway', is an example of a new and student-focused project, aimed to increase student group usage and connection with the Students' Union, as well as increased employability activity in the space.
Discussing the success of The Hideaway, SU President Ibrahim Alzaid said: "The Hideaway opening is such an amazing win for students at Westminster, as a student myself I understand the absolute need for a social space on site, especially when we have a number of central campuses. Paces such as the Hideaway are vital in providing a great student experience."
A key contribution of the Trust was the introduction of The Enhanced Reality Lab, a project that aims to enhance teaching and research through virtual and augmented reality by providing cutting-edge technology to students. Already, the lab has hosted and supported over 25 internal projects and many more final year and module projects, with several research and funded activities.
Jeffrey Ferguson, who led the Enhanced Reality Lab project, said: "With the QHT's backing, we were able to fundamentally improve the way that students work and learn at the University. Previously the rooms available to Computer Science students were designed to deliver tutorials.
"When students wanted to work with each other and lecturers outside of classes, there was a rigid classroom framework mediating their access. The XR Labs were designed to be informal, flexible, but serious working spaces similar to the interiors and facilities of cutting-edge technology companies."
The Trust has also offered technological funding and upgrades for the journalism department, as well as continuing its ongoing support towards valuable programmes such as Westminster Working Cultures and the Changing Lives Programme.
The Student Law Clinic Expansion project has also benefitted from this year's funding. The expansion of the Clinic will allow them to offer triple the number of free legal advice sessions and produce online legal information for students.
Hannah Camplin, project lead of the Student Law Clinic, said: "Over a hundred law students can now gain legal experience meeting and advising clients. Our expanded service also means many more members of the community are able to access free legal advice where this is often difficult to come by.
Talking about this year's achievements, Jordan Scammell, Development Team Manager, said: "It's been inspiring to see such a wide range of innovative projects of scale being run across our institution over the last academic year; all of which have positively impacted our students and their experience at Westminster in a range of different ways.
Quintin Hogg Trust Trustee Ann Rumpus said: "The trust is delighted with all the excellent work that is undertaken with its funding. In addition to the excellent work that is highlighted here, all the projects funded in 18/19 had very successful outcomes, so that thousands of students benefitted from direct support, improved facilities or innovative teaching devlopments. The trustees look forward to the developments which will take place in 19/20 and is very grateful for the hard work and enthusiasm for all the University staff and students which make this possible.
The Quintin Hogg Trust, set up in 1903 in memory of Quintin Hogg, Founder of the Regent Street Polytechnic (now University of Westminster), has a unique relationship with the University. The Trust aims at supporting the advancement of education for students, through funding a broad range of projects and activities proposed by University staff and students.
Next article
Students Raised £67,000 for the 125 Fund during the annual telephone campaign