Television Production students visit Harry Potter Studio Tour as part of Quintin Hogg Trust funded trip
Students from across all years studying on the Television Production BA Honours course attended the Magical Mischief experience at The Making of Harry Potter Tour, Warner Brothers Studios.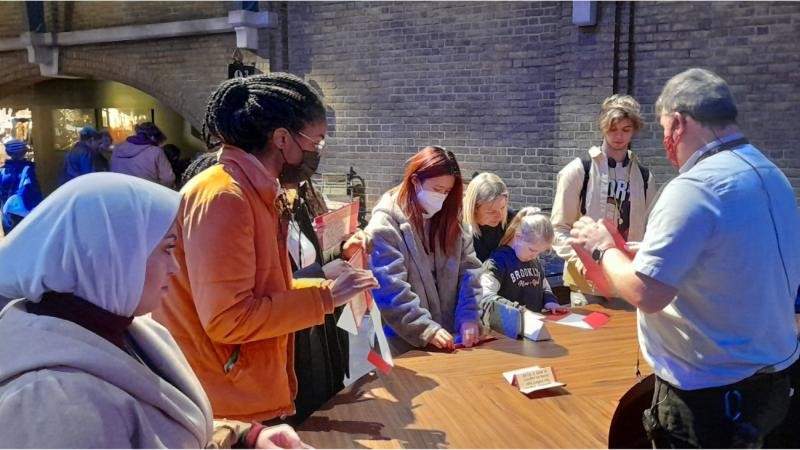 At the Studios, visitors can walk through the sets created for the Harry Potter films learning about screen production from initial concept through to final exhibition. The tour starts in the Great Hall, which serves as the backdrop to the series of films. Inside the hall there were costumes of students from each Hogwarts house plus two large tables which were set for dinner; at the top of the room was the teachers' table where the Hogwarts' Professors sat.
Students were also able to see demonstrations of film make-up, graphics creation, set design and the Hogwarts Express train, which provided the background for the very first shot ever captured for Harry Potter and the Philosopher's Stone and then, ten years later, for the very last shot of the entire series in Harry Potter and the Deathly Hallows.
The trip, funded by Quintin Hogg Trust, allowed students to enhance gain a first-hand understanding of the production experience for their course, which teaches them how to create and produce content for television across all genres.
The Television Production BA Honours course is a practice-based course taught by broadcast industry professionals and media theorists, combining critical analysis with hands-on practical skills. By seeing how the many individual screen industry skills worked together to create such an iconic series of films, students were exposed to the realities of a multi-disciplined industry.
Talking about the trip, Eleanor Roseblade, joint course leader for Television Production BA Honours said: "After a tough two years, it was exciting to take our students out of the classroom to visit such an immersive environment. The trip and what was learned will feed into our students' projects across their modules."