Students mix business with Bollywood in Mumbai
A group of 14 Westminster undergraduate students mixed business with Bollywood in December, as they visited Mumbai as part of the inaugural Westminster Working Cultures trip.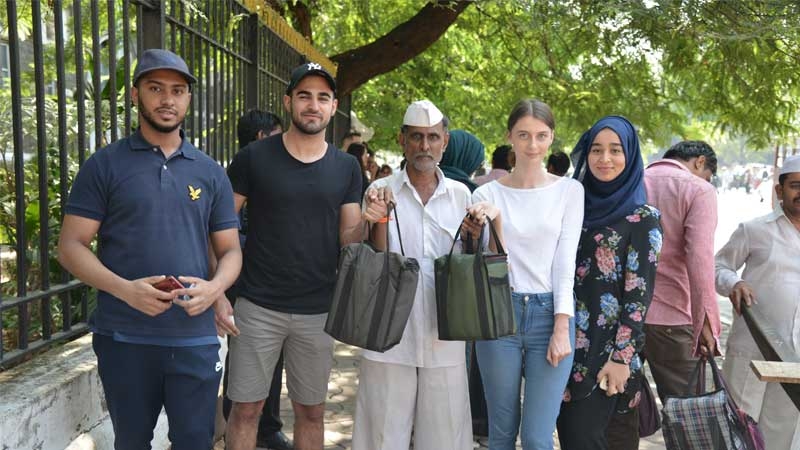 Throughout the week, the students met with a number of Westminster alumni – many of whom started their own companies – and visited a range of professional environments. They also explored a number of topics on the contrasts and challenges that India faces such as the status of healthcare, Bollywood and the country's financial environment.
During the trip, the students were treated to a private screening of Time Out, the Bollywood film directed by alumnus, Rikhil Bahadur who graduate from the Directing: Film and TV MA course, now Film, Television and Moving Image MA. Following the film, the students participated in an interactive discussion with Rikhil and a number of others who worked on Time Out, including the lead actor, about the film's themes as well as how it was made and received in India. Westminster Media Management MA alumnus and CEO of Culture Machine Sameer Pitalwalla also hosted the group at his office. Students heard about Sameer's professional journey and his tips for their future careers. As part of their visit to the digital media company, the students had the opportunity to take part in a unique and exciting project: in Indian pop-culture videos posted to 'Being Indian', in which they explored funny topics covering cultural differences between India and the UK.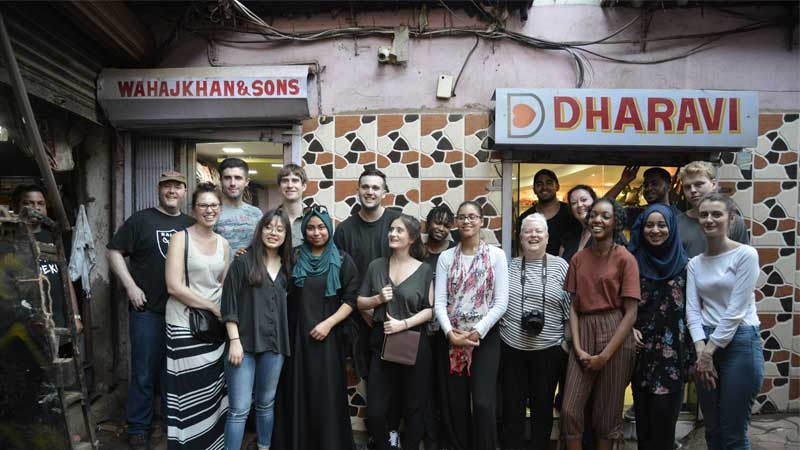 Another highlight of the trip was when the students explored some of the social issues facing Indians and how they are coming up with enterprising ways to deal with them. The group learned about the Dabbawalas, who are a lunchbox delivery and return system, delivering homemade lunches to people at work. The students also visited the Dharavi Slums, India's largest slum, where they saw a number of small-scale businesses operating, from the production of leather goods to pottery and plastic.
Film BA Honours student Joachim Alexander Pietsch, who took part in the trip, said: "I went to Mumbai to enhance my understanding as well as my knowledge of a place and culture that I have heard so much about and that is so famous in the global community. I subsequently gained respect for it and have - in many ways - been enchanted by the people and an environment that is so different from what I'm used to. The trip gave us an overview of the many areas of strife and struggle, allowing us to connect with the wonderful people of Mumbai and gave us space for reflection and inference."
This trip was made possible by the generous funding support from The Quintin Hogg Trust. The visit was led by senior members of the Alumni and Outward Mobility Offices, and students were also joined by Professor Alex Hughes, Deputy Vice-Chancellor for Global Engagement, Professor Malcolm Kirkup, Pro-Vice Chancellor and Dean of the Westminster Business School, and Dr Sumita Ketkar, Senior Lecturer in the Department of Leadership and Professional Development in the Westminster Business School.
Speaking about the trip, Professor Hughes said: "At Westminster, we are committed to providing our students with a range of opportunities for international experience. The Westminster Working Cultures programme marries those opportunities with exposure to diverse aspects of the world of work. I am delighted that WWC in Mumbai was such a success: everyone who participated enjoyed it immensely and we are very grateful to all the alumni, colleagues and friends who supported the programme."
Located in the heart of London, the University of Westminster is an international institution embracing global engagement in all its forms. We have students from 165 countries, staff from across the world and a highly international alumni community. This diversity is supported by a rich mix of international partnerships in over 20 countries worldwide, and places particular emphasis on providing international opportunities for our students. Our research addresses global themes and is sustained by international collaborations further enhancing our global community.
Next article
£55,000 raised for the 125 Fund through student-run telephone campaign