£55,000 raised for the 125 Fund through student-run telephone campaign
The generous support from the University of Westminster's alumni community from around the globe helped raise over £55,000 for The 125 Fund in the autumn Telephone Campaign.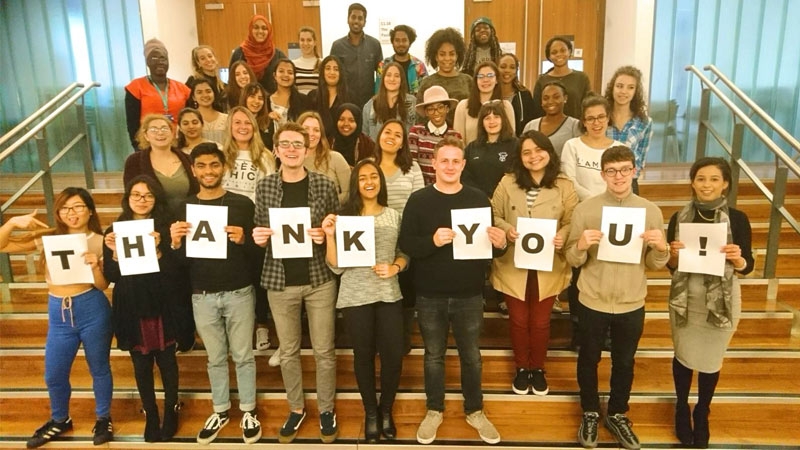 The three-week campaign, which took place in November, involved 38 Westminster students contacting former students to share experiences of their time at the University, gain advice on different career options and discuss the various ways in which alumni can support the University by volunteering or donating to The125 Fund.
By the end of the campaign, 252 alumni had pledged to donate to The 125 Fund and 235 alumni had expressed an interest in joining the University's mentoring programme. The support provided during this year's campaign plays an important role in enhancing the student experience at Westminster.
Poleta Ianeva, a second year Photography BA Honours student, said: "I've thoroughly enjoyed working on this campaign as it has given me the chance to be a part of something important and help initiatives to flourish. It is good to work for something you believe in."
Rebecca Wood, final year Psychology BSc Honours student, said: "Working on the campaign has given me the opportunity to share thoughts and ideas with former students who have been in my position. I've had some great conversations and received some really inspiring advice which I'm very grateful for. I'm also delighted to be able to raise vital funds for fellow students through The 125 Fund."
In March 2017, 92 students were awarded life-changing grants from The 125 Fund for a range of projects, which will help them with their employability and development.
Jolene Azagba-Nyako, undertaking a PhD in Public Health, received a 125 Fund grant last year to support her research project in Ghana. She was able to organise vital nutrition training for over 300 people in the local community, not only developing her research project but also impacting the lives of hundreds of people in her community.
Applications for the second round of The 125 Fund grants opened on 3 January and will close on 28 January, and the University is hoping to award even more students a grant this year with the support of its alumni and friends.
In addition, we are extremely grateful to the Quintin Hogg Trust for extending their matched funding offer until 31 July 2018, helping us to creative a transformative fund for the benefit of Westminster students.
Click here to find out more about The 125 Fund, or contact the Development and Alumni Relations Office on +44 (0)20 3506 6495 or by email at development@westminster.ac.uk.
Toni & Guy, Great Portland Street, supported this year's campaign by donating prizes for student callers which the University is very grateful for.
Next article
Quintin Hogg Memorial Fund appoints design team for Chiswick's Historic Boat House