The name of Stanley Clark, Polytechnic Rowing Club and Quintin Boat Club member lives on.
Following the extensive refurbishment of the QBC Club Room funded by the Quintin Hogg Trust, another name has been added to the Quintin Boat Club war memorial. Stanley Clark (1903-43), a club member and Polytechnic Rower, who died on the infamous Japanese prisoner-of-war camp working on the Burma-Siam Railway
The war memorial will have an extra name when it goes back on the wall after the refurbishment of the QBC club room. During the ongoing extensive works the memorial was removed for the first time since the 1939-45 section of it was added. QBC have taken the opportunity to add the name of Stanley Clark, who died in 1943 while working on the infamous Burma-Siam Railway as a prisoner of the Japanese. He is buried in Chungkai war cemetery near the River Kwai but QBC only learnt of his death a few years ago. Stanley had been the general manager of a company in Malaya, he then joined the Malayan equivalent of the Territorial Army and was been captured in Singapore.
From what little information available, it is known that he rowed with QBC from 1923 to at least 1925. His results in internal club events in 1923 are typical of someone who had only just started rowing. In 1924 he rowed for Quintin in several external regattas without winning any events. Early in 1925 he was the winning stroke in Quintin's 'junior trial eights' race between two matched crews of members who were presumably being considered for regattas later in the season. 12 of the 16 oarsmen in the two trial eights subsequently represented Quintin at regattas in 1925 – but not Stanley Clark. It is presumed he must have been ill or injured or had other commitments and no evidence can be found that he rowed in either internal or external events after the spring of 1925. Perhaps he was about to go abroad and could no longer afford the time to row.
However his name will now live on.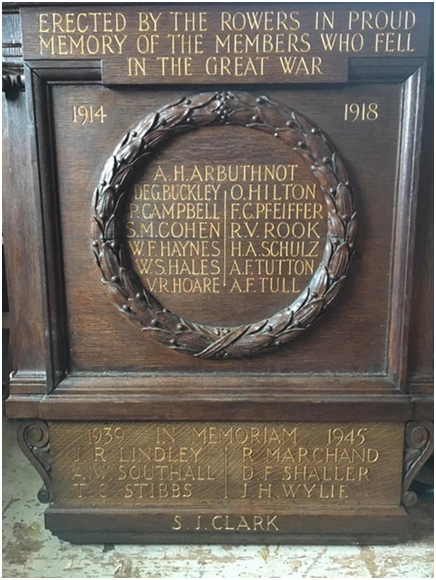 Stanley Clark (1903-1943)
Next article
University of Westminster receives £4.4 million Quintin Hogg Trust funding to enhance facilities and student experience