The Quintin Hogg Trust continues support and matched funding for the 125 Fund 2021.
Thanks to the generous support from the University of Westminster's alumni community, the annual fundraising telephone campaign for the 125 Fund has raised over a staggering £124,000, a £14,000 increase from last year's fundraising campaign.The 125 Fund helps the University to create a transformative fund for the benefit of Westminster students.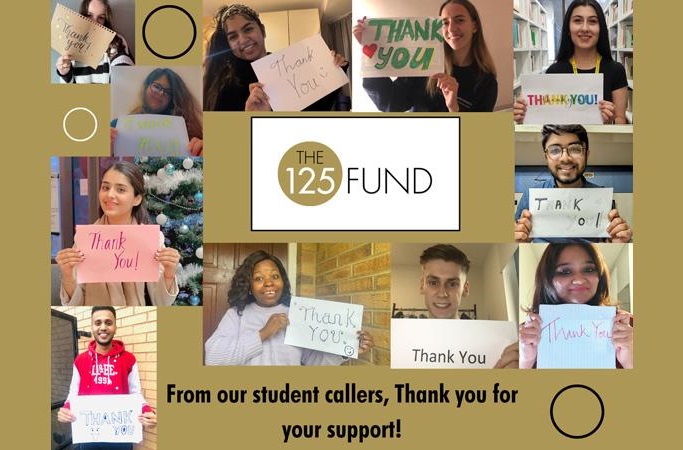 The three-week campaign, which took place from 30 October to 21 November, involved 40 Westminster students contacting over 1,000 former students to hear about alumni experiences and raise money for The 125 Fund. The campaign provided students with the opportunity to speak to alumni about their time at Westminster and gain valuable career advice and support.
The campaign, which is run by the University's Development team, raises money for the 125 Fund which aims to provide grants between £150 to £1,500 to students, allowing them to upskill, try out business ideas, and develop themselves for their future careers. The 125 Fund also enables students to pursue career-building opportunities and focus on developing themselves without the financial pressures of being a student. Westminster alumni showed great consideration for current students at Westminster by generously donating to support students to ensure they can afford additional opportunities which will help to set them apart in the competitive graduate market.
Student caller Evan Taylor, who is studying on the Film BA Honours course, said: "The annual telephone campaign is not only a flexible way to make supplemental income during studies, but a chance to network, converse with and gain advice from like-minded people in a similar field. It seemed daunting at first, but after a few calls, it became second nature. The conversations I've had over the course of these three weeks have been invaluable, and I'd leap at the opportunity to be involved again in the future."
Next article
Progress at the Chiswick River Pitches, Quintin Hogg Memorial Sports Ground