Regent Street Cinema featured on BBC Newsnight
Regent Street Cinema, located at the University of Westminster, was featured on BBC Newsnight on 8 February 2022 in a segment about the competition between the top streaming platforms.
The Newsnight segment, presented by the programme's US correspondent David Grossman, looked at the competition between the world's top streaming giants and questioned what their business models might look like in the long-term.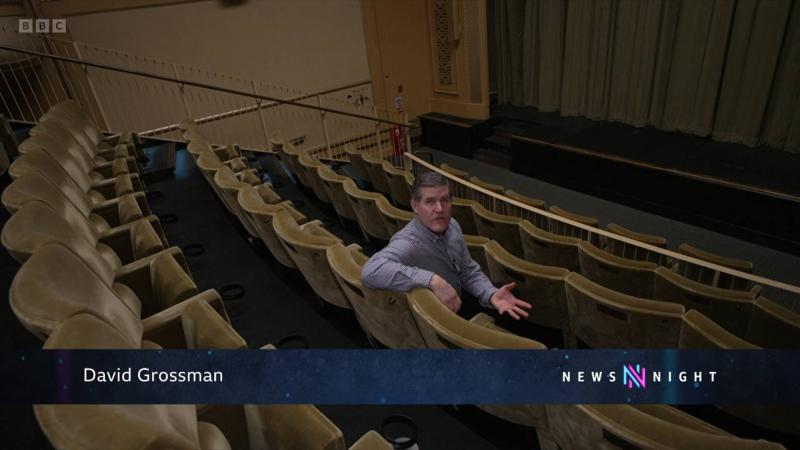 Sitting in the Regent Street Cinema to open the segment, David says: "In this auditorium, 126 years ago this month, the British cinema industry was born: a show by the French Lumière brothers, at what is now the Regent Street Cinema. The audience - just 54 paying customers."
Sarah Virani, Partnerships and Marketing Manager at Regent Street Cinema, who also featured in the segment said: "Thank you to BBC Newsnight for letting me contribute to the discussion around the future of streaming platforms. Streaming is an everyday part of our lives and has brought incredible access to shows and content in the comfort of people's homes, but it's not the same as escaping into a full big screen experience."
"Going to the cinema, is one of the very few places that people can escape and become totally immersed in beautiful stories on the big screen without any distractions. Regent Street Cinema has been providing this premium, luxury experience to customers for 126 years and will be doing so for many, many more."
The Regent Street Cinema was first opened in 1848, when it was first used as a theatre. Then in late February in 1896, the cinema played a short film by the Lumière Brothers, the first motion picture shown in the United Kingdom. Today, the cinema remains one of the very few in the UK able to screen 35mm film and 4k digital films.
Watch the full BBC Newsnight segment featuring the Regent Street Cinema on BBC iPlayer.
Next article
Quintin Boat Club - Quintin Head - back on the Water