Computer Games Development students attend Quintin Hogg Trust funded field trip to virtual reality arcade!
Students in their second and third years of the Computer Games Development BSc Honours course attended the DNA VR Arcade.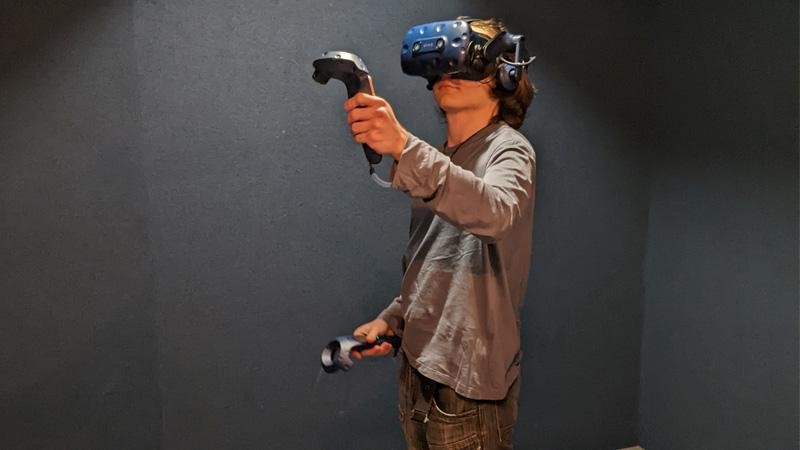 At DNA VR, teams and individuals can play the latest and greatest VR games on high-powered computers connected to quality Steam Vive VR headsets and controllers. It is the first VR arcade experience in London, providing both single and multiplayer VR experiences for up to 10 players in the same virtual world. From tower defence games to team death matches, players can experience high octane adrenaline-fuelled VR or opt for more cerebral VR escape rooms or beat matching games.
The Quintin Hogg Trust funded trip provided students with a hands-on experience using the different technologies that modern games can be enjoyed through, especially multiplayer VR, as traditionally VR tends to be a solitary experience for players.
The trip allows the students to enhance their experience of their course, which combines technology and creativity in a multidisciplinary way. The Computer Games Development BSc Honours covers all major technical aspects of the games development process, from design to production, and aims to prepare students for a career in software development with a specific emphasis on computer games.
By taking the students' experience from the arcade and rolling it into their module work and final year projects, the trip to DNA VR challenge and inspire students to design and deliver new and exciting games both in VR and on PC. Experiencing such an immersive environment as DNA VR will help the students craft more engaging experiences across their modules and personal projects.
Find out more about Computer Science and Engineering courses at the University of Westminster.
Next article
Television Production students visit Harry Potter Studio Tour as part of Quintin Hogg Trust funded trip