University of Westminster shortlisted for Times Higher Education Award for Outstanding Support for Students
The University of Westminster has been shortlisted for the prestigious 2022 Times Higher Education (THE) Awards in the 'Outstanding Support for Students' category for the University's Future Ready Mentoring Programme, which is supported by the Quintin Hogg Trust.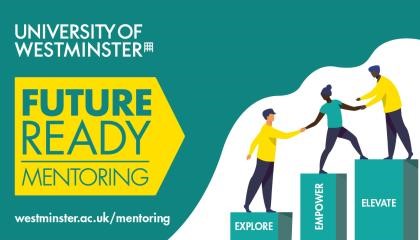 Future Ready Mentoring embodies Westminster's mission and values and is one of the flagship programmes within the University's Employability strategy. Designed as an inclusive programme with a range of opportunities to support mentors and mentees from every background, industry and career level, Future Ready Mentoring connects our students with employers for graduate career success.
There are three branches of Future Ready Mentoring open to students and recent graduates to enhance their employability and career prospects: long-term Career Mentoring; course-embedded Group Mentoring; and the short-term Ask a Mentor service. All three opportunities connect mentees with experienced professionals, including both Westminster alumni and our partners, to support the development of their sector knowledge, building their interpersonal skills and expanding their professional network.
Recently, Future Ready Mentoring has seen a substantial expansion, supporting just over 500 mentoring relationships in the 2018-2019 academic year to over 1000 relationships just two years later.
Alyssa Martin, Head of Alumni Relations at the University of Westminster, said: "We are honoured to have been shortlisted in the 'Outstanding Support for Students' category. Our mentors and mentees have demonstrated an inspirational commitment to their time with the programme and have truly made the most of their mentoring relationships."
Professor Alexandra Hughes, Deputy Vice-Chancellor for Employability and Global Engagement, said: "Future Ready Mentoring is a flagship employability programme at the University of Westminster, and to be recognised by the Times Higher Education Awards for this highlights the incredible support given to the students by the entire Westminster community. It also reinforces our commitment to supporting students on their professional journey by providing inclusive, tailored and sector-leading employability and skills development opportunities."
Ann Rumpus Quintin Hogg Trustee and Chairman of the Grants Committee says: "The Trust started funding the mentoring programme over 5 years ago. Since it was first presented the programme has been so successful, with more elements being added to the programme, that the Trust has been pleased to have continued the support with further grants. Support for the students of the University of Westminster is at the crux of the QHT ethics and aims, and this nomination absolutely crystalises our ambitions for the student body".
The Award winners will be revealed at the Hilton Metropole Hotel, London, on 17 November 2022.
Find out more information about the Future Ready Mentoring programmes or learn how you can join the programmes as a mentor.
Next article
Annual Student telephone campaign raising money for the 125 Fund matched by The Quintin Hogg Trust