University of Westminster Environmental Society brings a community "greening project" to the Quintin Hogg Memorial Ground at Chiswick.
Three final year students Katie Burtenshaw, Valentina Dalle Nogare and Latoya Robinson from the Tourism and Event Management course at the University of Westminster came up with the idea for their final year project – Tree Planting - they were given the green light! This was a good start but "Where" "How" and "who Pays" – this was not just a matter of obtaining a few trees and getting them in the ground! The work began – the students turned to the Environmental Society and University Estate Staff to identify and gain access to a suitable space that would be available for this project to take place. The Quintin Hogg Memorial Ground at Chiswick was ideal for such a project - approval was sought and given with enthusiasm for the plan, so with this they were now able to proceed and started to organise the event.
The students sought and received apple trees and hedgerow plants donated from the Woodland Trust and with help from "Abundance London" who helped publicise the event through their network, as well as local leafleting they engaged with the local community to come and join in the planting.
Planting Day was very successful with great weather and having opened up the event to the local community, many families attended with their children, there were smiles all around from adults and children for a great fun day and a sustainable future!
Dr Peter Bonfield,
Vice Chancellor and President University of Westminster
"I was particularly pleased to attend this event as it is a prime example of the ingenuity of the University of Westminster student body and their commitment to the environment and the connection to the local community."

Twitter | Instgram | Facebook | Abundance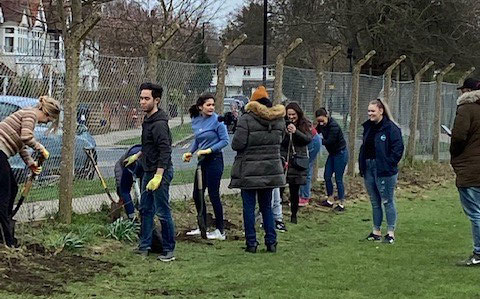 Next article
Stage one of the refurbishment of Quintin Boat Club achieved thanks...